Official FTB Newsletter
Welcome to the Official FTB Newsletter. In today's issue, we have information about two new FTB team members, our upcoming event at PAX South, and some details about FTB and third-party packs. We'd also like to spotlight two mods as well as some new Youtube content featuring the Unstable pack. Finally, we're announcing the new FTB Build Competition.
The FTB Team is constantly growing and expanding, and we'd like to welcome two new members to the team. Quetzi has joined the FTB Core Team as the IT Director, and Moxiegrrl has joined the FTB Team as the Beta Tester Team Lead. We'd like to congratulate them and welcome them both to the FTB family!
FTB Modpack News

In modpack news, FTB Unstable 1.8.9 is currently being used to test new mods for their potential inclusion in future FTB packs. We are looking forward to seeing more mods update to 1.8.9, so that we can eventually put our first 1.8.9 pack together.

Grab the Curse App or the FTB Launcher to play Unstable.

Feed The Beast Website
1.8.9 Mod Spotlight
We would like to spotlight some of the exciting new mods that are available to play with in modded 1.8.9.
The Chisel and Bits mod adds tools to help you create custom decorative blocks and designs to decorate your bases and improve the flexibility of your building style. AlgorithmX2, the mod developer, has a short introductory video showing some features of his mod at:

www.curse.com/mc-mods/minecraft/231095-chisels-bits

Chisels & Bits
The Blood Magic mod is also being updated for use in 1.8.9, and although not all of its features have been implemented yet, there are some interesting new changes with the mod that you can find out more about at:

http://minecraft.curseforge.com/projects/blood-magic

Blood Magic
3rd Party Pack News

Meanwhile, there are still new packs being developed for 1.7.10. The new pack Simply Magic is available as a third-party pack on the FTB launcher, and it is also available on Curse. This is an Hardcore Questing Pack in which players are walked through core magic mods without the comforts of vanilla or otherwise "technological" armors and weapons. Quests provide a tutorial-like experience to those that wish to learn magic mods without the hardcore aspects that other magic-themed packs demand.
PAX South Event News
PAX South 2016 is almost here! Taking place on January 29-31 in San Antonio, Texas, a number of FTB team members will be in attendance. You can definitely see Slowpoke and Quetzi at the "Making the Most of Mods in Minecraft" panel happening at 1 p.m. on Saturday the 30th.
Twitch TV streamer Aureylian hosts the panel where she will be joined by youtubers, streamers, mod and modpack creators as they answer questions and talk about the latest news in Minecraft mods and modpacks.
The panel will include: Direwolf20 (Youtuber), Slowpoke (Founder, FTB), Quetzi (Streamer / Mod Developer), Lex Manos (Forge Developer, Forge), Bacon Donut (Streamer / Modpack Creator, n3rdfusion), and Aureylian (Streamer).
We hope to see you there. For more information, visit: Making the most of mods in Minecraft
Featured Content Creator
TheOnlyBentley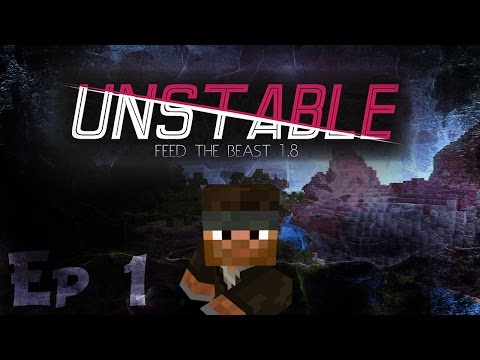 If you're looking for a more comprehensive guide to playing Unstable or just some enjoyable entertainment, TheOnlyBentley has recently started a Let's Play series on Youtube featuring the Unstable pack.
Channel Link
Unstable Let's Play can be found here: Video Link

If you are interested in becoming an official FTB content creator, then fill out this form and let us know: FTB Content Creator Application
FTB Build Competition
We'd like to announce the FTB Build Competition. Submit a picture of your build to #ftbbuilds on Twitter for a chance to be featured in the next newsletter. The winner of the contest will also receive a unique player badge that will display on their Minecraft character on any pack that includes FTB Utilities. So share with us your best creations for your chance to win.